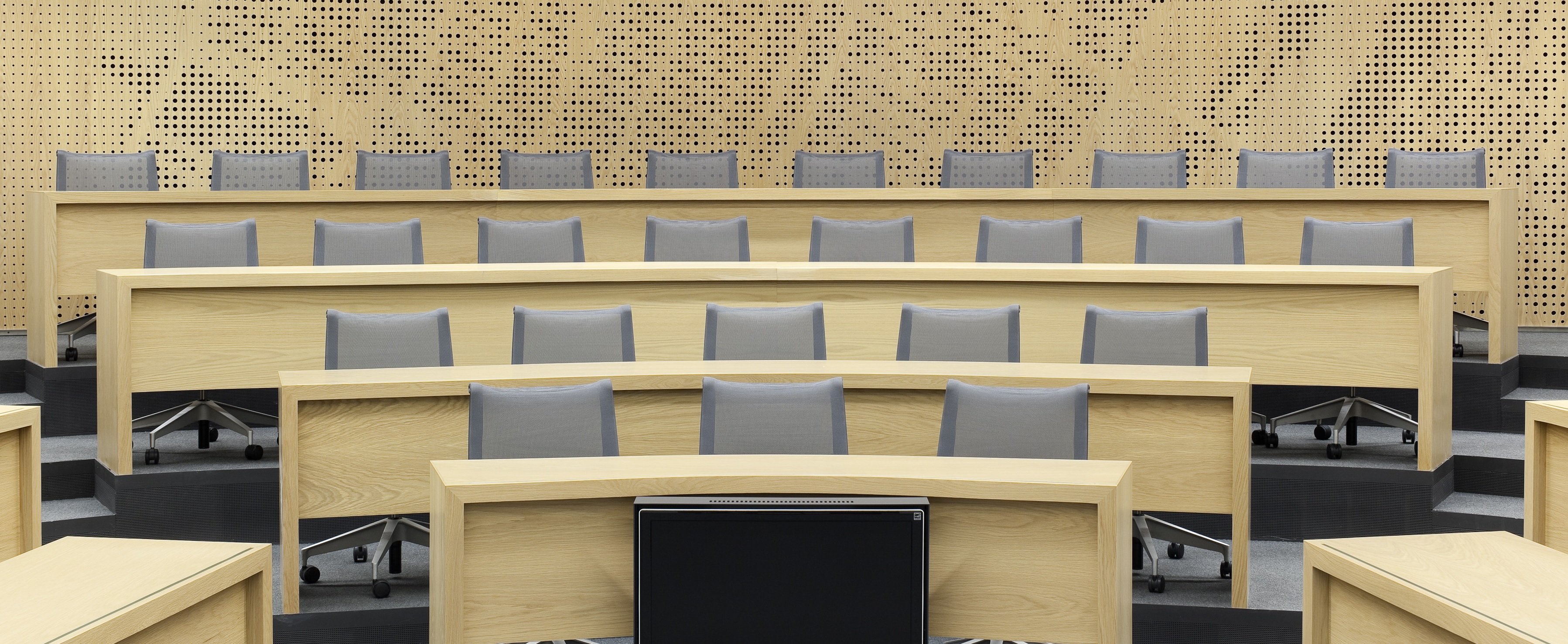 Board of Directors
Ann Armstrong
Lecturer, OB/HRM & Director, Social Enterprise Initiative
Rotman School of Management
Ann Armstrong has been an instructor at the Rotman School of Management for the past ten years. She is the Director of the Social Enterprise Initiative: in that role, she is responsible for increasing the School's involvement in the non-profit/social enterprise sectors through curriculum design, research and community engagement. Ann teaches in the Executive Development Program as well as in the MBiotech, Management, and Culture, Communication and Technology Programs at the University of Toronto at Mississauga. She is the Academic Co-Director of Rotman's Learning Exchange with Regent Park. Ann is working on an SSHRC-supported research project that looks at the social economy of Ontario. She has just finished 'Canadianizing' a textbook on organization design and has co-authored a textbook on Canada's social economy with Drs. Jack Quarter and Laurie Mook. She received her Ph.D. from the University of Toronto.
Back to Top 
Richard Blundell
Professor, Executive-in-residence for Business Sustainability, Interim Executive Director for Executive Program 
Rotman School of Management
Richard Blundell has over 35 years of senior executive management and consulting experience in the global environmental services and technology sectors.  His experience includes operations management, corporate and market development, mergers and acquisitions, new business initiation, and consulting.  Richard Blundell's international experience includes running businesses in East and West Europe, North and South America, Africa, and Asia (12 countries from India to China).  He has significant experience in new business creation and management of growth-stage businesses in global markets. Richard Blundell has completed over $260 million in corporate M&A transactions and raised over $240 million in private equity funding for early-stage companies.
From 1989-2004, Richard Blundell held senior leadership positions with Laidlaw Inc., Canada's largest waste management company, as Director of European Business Development; SGS SA, a global company in inspection, testing, and certification services as SVP of the Global Environmental Services Division; and Hagemeyer Cosa Liebermann, a technology marketing company in Asia Pacific as EVP of the Technology Division.  During this period and since 2004, Richard Blundell has held executive management positions in eight early-stage, clean-tech companies, including a number of Board of Directors appointments.  Before assuming a faculty position at the Rotman School of Management in January, 2016, he was Founder and Executive Director of Global BSN LLC, and Founder and CEO of TownSity Inc.  He teaches sustainability strategy, innovation and entrepreneurship at Rotman.
Back to Top 
Dilip Soman
Corus Professor of Communications Strategy & Professor of Marketing, Co-director of BEAR
Rotman School of Management
Dilip Soman is presently the Corus professor of communication strategy, and a professor of marketing at the Rotman School of Management, and affiliated with the School of Public Policy at the University of Toronto. He has also served on the faculties at the Hong Kong University of Science and Technology, and at the University of Colorado at Boulder. He has degrees in Mechanical Engineering, business, and Marketing and Behavioral Sciences. In addition to his position at Rotman, Dilip also serves as an associate editor of the Journal of Marketing Research, and on the editorial boards of several other journals. He is the author of over 50 articles and proceedings, and the author of two forthcoming books.

His research focuses on the psychology of judgment and decision-making, and its applications to consumer and managerial behavior. He is particularly well known for his research on consumer spending and savings. His recent work has focused on developing behavioural interventions to improve individual welfare. He has done numerous projects in the areas of spending and savings behaviour, microcredit and microenterprise, healthcare, poverty alleviation, and healthy eating, and geographical domains of inquiry include Canada / USA, China, India and Thailand. Dilip holds a Ph.D. from the University of Chicago, an MBA from the Indian Institute of Management and a B.E. from the University of Bombay.
Back to Top 
Edward Thomas
Senior Manager at Deloitte in Sustainability & Emerging Markets
Edward Thomas leads Deloitte Canada's Emerging Markets and Inclusive Business platform. He advises businesses, international institutions, governments, foundations, and non-profit organizations on strategy and operational issues, with an emphasis on emerging and frontier markets. Edward Thomas has advised leadership teams for clients including the World Bank Group, UNICEF, UN Global Compact, Gavi (the Global Vaccine Alliance), Inter-American Development Bank, German Federal Ministry for Economic Development, Ontario Ministry of Labour, Ontario Ministry of Community & Social Services, private investors and business, and non-profit organizations. Edward holds an MBA from IE Business School, a Certificate in Advanced Social Management programme from the University of Cambridge, and a bachelor degree in Political Science (International Relations) from the University of British Columbia.
Back to Top 
Gil Panuncialman 
Assistant Director, Career Centre
Rotman School of Management
Gil manages Rotman's recruiting partnerships within the Consulting, Government and Not for Profit client groups – overseeing all marketing and relationship management strategies to establish, maintain and deepen partnerships with our key clients in these sectors. Prior to his current assignment, Gil began his tenure at Rotman as the Career Centre's Business Development Manager tasked with building Rotman's presence in Financial Services, Consulting, Consumer Goods, Manufacturing, Retail, Healthcare, Pharmaceuticals, Technology, Telecommunications, Energy and Government – laying the foundation of the School's recruiting relationships within these industries. With close to two decades in campus recruiting experience, he serves as a trusted advisor to Rotman's key corporate clients providing guidance on best practices to address talent gaps, heighten competitiveness, reduce recruiting costs and maximize hiring yields. Gil is a Political Science major from De La Salle University.
Back to Top 
Mentors
Vince Brewerton
Principal
Imagico Inc.
Vince Brewerton is a seasoned facilitator and strategist who brings people together to work through complex social and organizational challenges. He integrates mindfulness and reflective leadership techniques into his work with leaders, boards of directors and staff teams to help them successfully transform themselves and their organizations. His clients include: Big Brothers Big Sisters of Canada, Junior Achievement of Canada, Toronto Board of Trade, National Aboriginal Achievement Foundation, University of St. Michael's College and Sheridan Institute of Technology & Advanced Learning.A former practice leader for an international management consulting firm, Vince also recently served as the Executive Director of the Centre for Spirituality and the Workplace at Saint Mary's University. Drawing on these experiences, as well as his studies with leading organizational and spiritual thinkers, Vince skillfully guides leaders in answering the complex questions they often face.Over the last ten years, Vince has led more than 30 successful organizational transformations by facilitating mergers, and visioning and strategic planning processes. He has helped leaders in corporate, not-for-profit and public sectors to explore the benefits of mindfulness and values-based leadership. And the rewards have been significant – leaders that are more effective, and organizations that are working smarter, that are stronger financially and that are making a bigger impact.As a volunteer, Vince is a Board Member at the Renascent Foundation (Chair of the Nominations & Governance Committee) and a member of the External Advisory Council, Tyson Center for Faith and Spirituality in the Workplace at the Sam M. Walton College of Business, University of Arkansas.
Back to Top 
Matthew Chapman
Partner
TorQuest Partners
Matt joined TorQuest Partners in 2007. Matt came to TorQuest from Workbrain, Inc., an enterprise software company that was acquired by Infor Global Solutions in June 2007. Matt joined Workbrain in 2000 as Director of Finance, and served as Vice President, Finance (2002), Chief Financial Officer (2003-2006), and Senior Vice President of Operations (2006-2007), helping to drive the rapid growth of the company. Earlier in his career, Matt worked at RBC Capital Markets in the Investment Banking Group. Matt currently serves as a director of Matchpoint Asia Fund Limited.Matt holds an M.B.A. from the Rotman School of Management at the University of Toronto, and a B.Sc. and M.Sc. from McGill University.
Back to Top 
Angie Mackie
Founding Partner
The Donnée Group
Angie has more than 20 years of successful experience serving many of Canada's largest not-for-profit organizations. In the Canadian charitable sector, Angie's knowledge of the challenges faced by large, multi-level fundraising organizations is unparalleled. Angie has in-house experience with provincial, national and international charities including Ontario March of Dimes, Canadian Red Cross and Canadian Diabetes Association. At these organizations Angie was responsible for developing stewardship and other relationship programs, launching and growing monthly supporter programs, integrating major gift development, database segmentation, centralizing direct marketing programs, and introducing Planned Giving initiatives. Angie earned her MBA at Rotman School of Management at the University of Toronto.