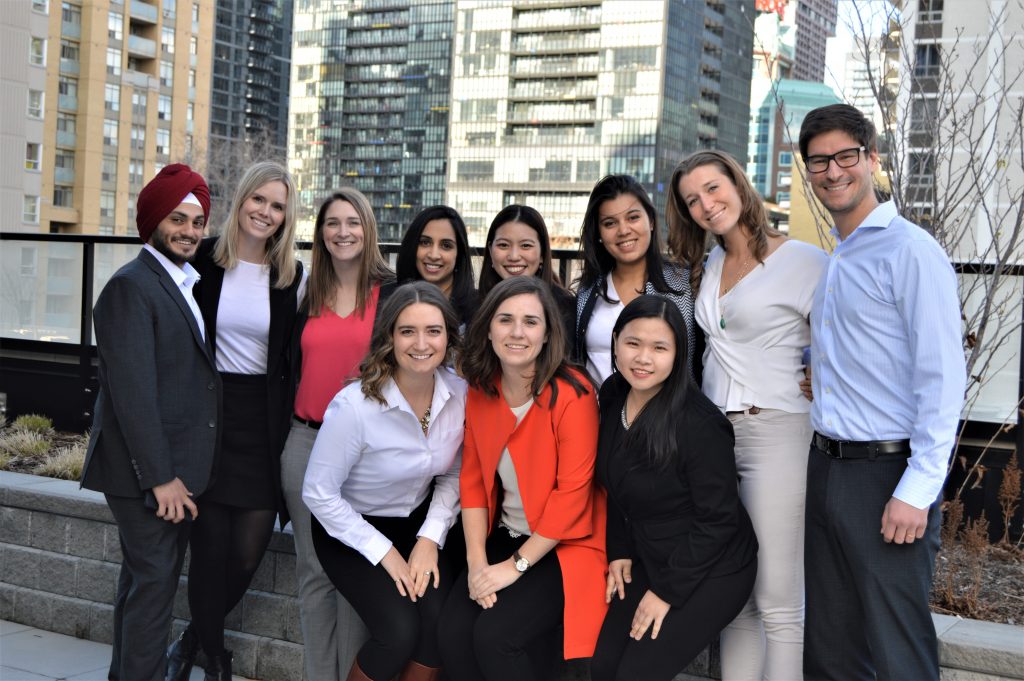 2018 – 2019 WIMA Executive Committee
Jocelyn Jarvis
President
Jocelyn.Jarvis19@rotman.utoronto.ca

An MSc graduate specializing in health behaviour change, Jocelyn values using data to make evidenced-based decisions, a skill mastered in her past role involving public health evaluation. She is a skilled critical-thinker, problem-solver, and has added value to projects by being able to see the big picture. Outside of school, Jocelyn loves to stay active by playing sports with friends.

Steffi Rebello
VP Operations
Steffi.Rebello19@rotman.utoronto.ca

Steffi hold an undergraduate degree in Aerospace Engineering and a Masters in Engineering. Prior to the MBA, she worked in supply chain management for a multinational conglomerate across the Middle East and Europe. She has a passion for increasing efficiency and change management. She is a certified yoga instructor and enjoys hiking.

Daphne Uy
VP Communications
Daphne.Uy19@rotman.utoronto.ca

Daphne is an Industrial Engineering graduate with four years of experience in retail management specializing in facilities operations of retail establishments, improving process' efficiency and effectiveness in her previous job. She loves trying new cuisines, travelling and reading all kinds of books.

Heather Beatty
VP Careers
Heather.Beatty19@rotman.utoronto.ca

Heather holds a Bachelors of Arts from Dartmouth College where she was Captain of the Varsity Ski Team. Prior to the MBA, she worked at a large Canadian retailer in the merchandizing division. Heather has a keen interest in and passion for creating impactful and sustainable contributions to all selected environments.

Sheila Quiroga
VP Careers
Sheila.Quiroga19@rotman.utoronto.ca

Sheila is a marketing professional who formulated strategic marketing plans, conducted marketing data analysis, and ensured implementation with the aid of her designing skills for both infrastructure and publishing companies. Sheila practices martial arts and swims in her spare time.

Ashley Nagi
VP Networks and Engagement
Ashley.Nagi20@rotman.utoronto.ca

Ashley is a Business Specialist at RBC with more than five years of experience in the insurance industry. She has extensive knowledge of disability claims management and specializes in process transformation and change management. She has a passion for travel and loves to experience new cultures and try foreign cuisines.

Caitlin Dwyer
VP Development
Caitlin.Dwyer19@rotman.utoronto.ca

Caitlin is a Professional Engineer with an undergraduate degree in Green Process Engineering. Before the MBA, she worked in large-scale capital project execution in the oil and gas industry. She thrives in fast-paced environments and has a passion for applying her creative problem-solving skills to complex issues. An avid travel and lover of the outdoors, she's summitted over 30 mountains across the globe and is always looking for the next adventure.

Genevieve Plante
VP Development
Genevieve.Plante19@rotman.utoronto.ca

Genevieve is a fulltime MGA/MBA student with a background in health, political science and law. She is passionate about finding innovative sustainable and inclusive ways to solve social challenges both in her community as well as internationally. Her previous experiences range from the non-for-profit sector in Canada and in Morocco, health and politic research centers to management in retail.

Sarah Badun
VP Special Events
Sarah.Badun19@rotman.utoronto.ca

Sarah holds a BComm degree and has predominantly worked in the financial services industry, where she harnessed her ability to approach problems both strategically and tactically. Outside of work, she enjoys mentoring others to help them grow and meet their career goals and is passionate about giving back to the community.

Thomaz Fonseca
VP Allies
Thomaz.Fonseca19@rotman.utoronto.ca

Thomaz is an engineer who has worked in the financial sector and as a Financial Controller for a company in the metals and mining industry. There, adaptability to a changing environment and teamwork were paramount. He enjoyed the constant interaction with colleagues from different departments and the challenge of participating in strategic committees with the c-executives. He likes running half-marathons and scuba diving in different countries.




Adil Sethi
VP Allies
Adil.Sethi19@Rotman.Utoronto.Ca

Following his career as a professional cricketer, Adil worked in the sports industry gaining experience in talent management, sports consultancy and marketing before coming to Rotman. Finding creative solutions to the most mundane problems is what drives him. He is passionate about causes around gender equality, women empowerment and sports promotion.