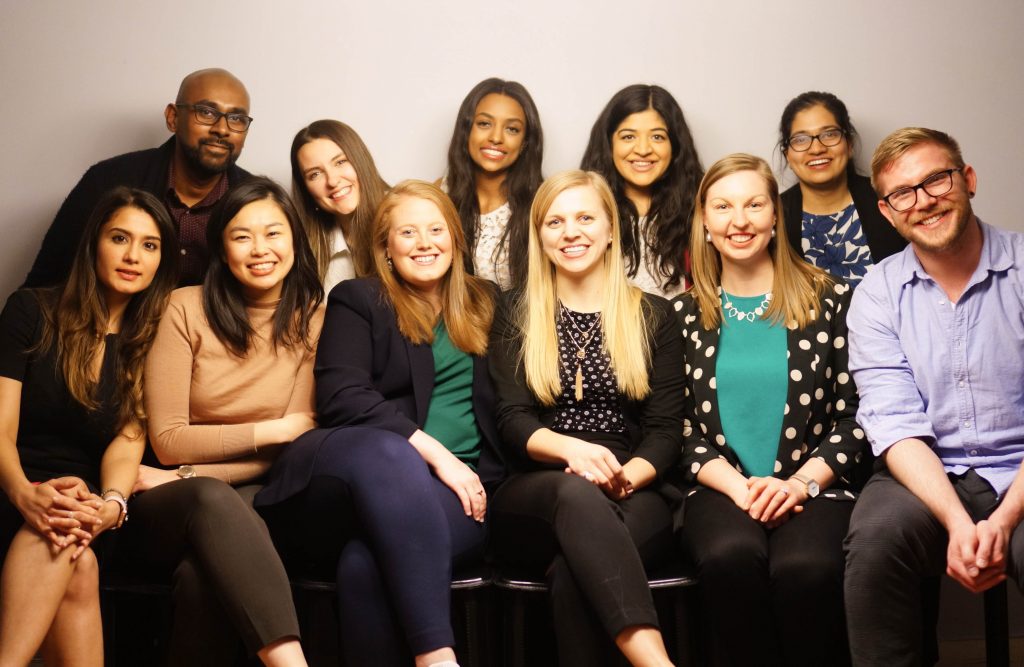 2019 – 2020 WIMA Executive Committee
Rosemary Williamson
President
R.Williamson20@rotman.utoronto.ca


Rosemary holds a Bachelor of Arts degree from Michigan State University. Prior to the MBA, she worked in the automotive industry focusing on marketing, sales and supply chain management. Rosemary is passionate about curating the next generation of professional music patrons and has served her local Detroit and Denver communities as a young professional board member and volunteer. When she's not in the classroom, Rosemary can be found in the audience of rock, electronic, pop or classical music concerts.


Ayesha Nayar
VP Operations
Ayesha.Nayar20@rotman.utoronto.ca

Ayesha holds a Masters of Public Health degree from the University of Toronto. Before the MBA, she worked in the healthcare industry, where she honed her ability to approach problems both strategically and analytically. Ayesha is a skilled evidence-based decision maker and enjoys applying creative methods to solve problems. Outside of work, Ayesha enjoys cheering on the Raptors, finding the best coffee spots in Toronto, and planning her next trip.

Sophia Adem
VP Communications
Sophia.Adem20@rotman.utoronto.ca

Sophia holds a Bachelor of Arts in International Relations with a specialization in International Business from the American University. Prior to the MBA, she managed large U.S. government projects focused on providing non-lethal aid to armed opposition fighters during the Syrian Civil War. She has extensive international experience having lived and worked in five countries and speaks four languages. When she's not hitting the books, Sophia enjoys traveling, exploring Toronto, and eating sushi.

Asli Zayim
VP Careers
Asli.Zayim20@rotman.utoronto.ca

Asli holds a Bachelor of Science degree in Industrial Engineering and a Minor in Psychology from Sabanci University. Prior to the MBA, she worked as a business development strategist leading product launches across Israel, Europe, Russia and Central Asia duty-free markets. Asli is passionate about giving back to the community and volunteered in several projects to address issues such as unequal access to education, child marriage and domestic violence. Outside of work, she enjoys camping and capturing moments with vintage Polaroid cameras.

Lavanya Bhatt
VP Careers
Lavanya.Bhatt20@rotman.utoronto.ca

Lavanya holds a Bachelor's Degree in Commerce with a specialization in Finance. Prior to her time at Rotman, she worked in an executive search firm in Dubai, headhunting global technology and cyber security executives to join firms in the Middle East. Lavanya is an animal lover and is passionate about issues surrounding animal testing and pet over-breeding. She is a self-proclaimed Dessert Queen and is currently on the lookout for the best tiramisu in Toronto.

Laura Doyle
VP Networks and Engagement
Laura.Doyle20@rotman.utoronto.ca

Laura holds a Bachelor of Engineering degree from the University of Guelph. She is in the Morning MBA program and is currently working at CIBC in Marketing focused on client engagement and retention. Laura is passionate about creating an inclusive environment at work and enjoys planning team building activities and social outings. Laura's favourite pastimes are watching horror movies with a giant bowl of popcorn and crushing her husband at tennis.

Tracy Duong
VP Development
Tracy.Duong20@rotman.utoronto.ca

Tracy studied Communications during her undergraduate degree in Vancouver. Pre-MBA, she was based in Norway for six years, advising firms on international business development and new market entry strategy within the aquaculture and seafood industry. She continues her professional interest in food and protein, as well as a keen eye on international policy.

Stuti Mathur
VP Special Events
Stuti.Mathur20@rotman.utoronto.ca

Prior to enrolling at Rotman, Stuti worked at ME to WE on strategy projects that allowed her to achieve her goal of working in the social sector and helping grow an organization that had great social impact. Through this experience she discovered new career goals that led her to Rotman and pursing a career in internal and external consulting. When she is not busy with work or school you can find her re-reading the Harry Potter series, having brunch or plotting where to travel next. She looks forward to meeting and connecting with the class of 2021.

Bryana Rahkola
VP Special Events
Bryana.Rahkola20@rotman.utoronto.ca

Prior to Rotman, Bryana was the Operations Manager of a multidisciplinary chronic pain treatment center in Vancouver, where she led a team focused on implementing patient-centred innovation. Bryana is an avid outdoors enthusiast, and you can often find her rock climbing, skiing, hiking a mountain, or riding her bike. During the winter, she volunteers as a first responder with the Canadian Ski Patrol. Bryana's life goal is to improve peoples lives, which is why she chooses to work and volunteer in the healthcare industry.

Rin Senan
VP Allies
Rin.Senan20@rotman.utoronto.ca

Rin holds a Bachelor and Masters of Science degrees from the University of Birmingham in the UK. Before moving to Canada to commence his MBA, Rin worked as a Management Consultant focusing on Agile Development and Transformational Change initiatives within banking. He is a passionate Manchester United fan and goes to roughly 6-8 games a year whilst juggling his consulting responsibilities. Outside of class, Rin is best placed at all things Hip Hop and R&B, be it listening, attending concerts or attempting (not that spectacularly) the latest dance craze.




Ken Martelli
VP Allies
Ken.Martelli20@Rotman.Utoronto.Ca

Ken Martelli received a Bachelor of Science in Nursing from the University of Saskatchewan and practiced as a Registered Nurse in Emergency and Intensive Care Departments for four years. Living in Montreal, Ken found a passion for consulting while participating in quality improvement and patient safety initiatives at the Royal Victoria Hospital ICU. During his MBA, Ken has focused on diving in to the healthcare consulting world, securing positions as a Debbie Fischer Healthcare Mentee, an Emerging Leader of the Vernissage Dialogue Series, and as a Summer Consultant with Ernst & Young's Canadian Healthcare Practice. Outside of Rotman, Ken enjoys traveling, cooking, exercising, and listening to live music.