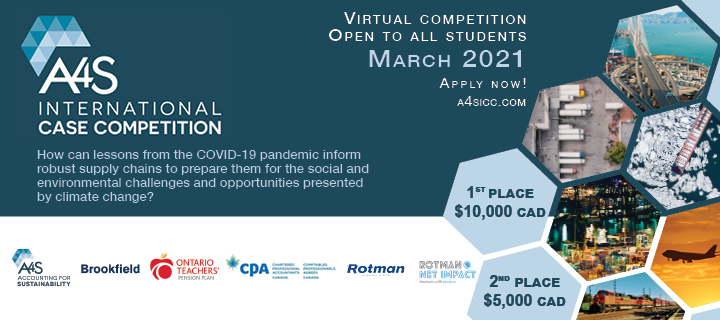 Rotman Net Impact, in partnership with The Prince's Accounting for Sustainability Project (A4S), is proud to announce the Global A4S International Case Competition for 2021 (A4SICC 2021).
This year's competition will take place in March 2021. The competition will focus on a sustainable, resilient recovery, including promoting societal justice and tackling climate change to build back better in a post-pandemic world.
The A4SICC brings together a network of students, academics, professionals, and consultants from across business, finance, and sustainability. Students will be presented with a case challenge and be required to develop a disruptive business and financial model, which must be scalable and have a measurable impact on global social and/or environmental issues. Finalists will present in front of an experienced panel of respected judges from various sectors. The competition is free to enter and first place and runner up teams will receive a cash prize of $10,000 CAD and $5,000 CAD, respectively.
The competition is open to university and business school students from around the globe. The first phase of the competition, which will open following a Q&A session on November 13, 2020, requires student teams to submit an executive summary of their proposal. The closing deadline is January 30, 2021.
This years competition is focussed on Supply Chain Resilience and Climate Change Impact. To find out more go to A4SICC.com and don't forget to register for the upcoming information session on Friday November 11th, 2020 at 11:00AM; the registration link is below.
Register in advance for the A4SICC Info Session:
https://us02web.zoom.us/webinar/register/WN_EnOKZveCQg2zSEcMk913tg