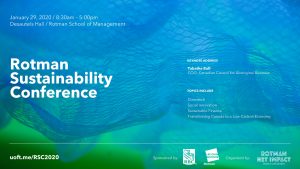 2nd Annual Rotman Sustainability Conference – January 29, 2020 8:30am-5pm
Desautels Hall, Rotman School of Management, 105 St George St, Toronto, ON
---
Register for the conference here!
Click here for 2020 Rotman Sustainability Conference Speaker Bios
Organized by Rotman Net Impact
Sponsored by RBC and the Michael Lee-Chin Family Institute for Corporate Citizenship
---
Conference Description:
The 2nd annual Rotman Sustainability Conference will provide students with the opportunity to learn about diverse careers with meaningful social and environmental impact. Students and industry professionals will have the opportunity to learn from and network with leading professionals working on key issues in social innovation, sustainable finance, clean tech, and transitioning Canada to a low-carbon economy.
Problems like climate change and income inequality require action from all sectors of our society. In a keynote address and four panels, we will discuss the role of businesses and organizations in addressing urgent, complex issues including climate change, income inequality, and social justice. Through challenging questions and difficult discussions, we hope to provoke meaningful conversation and inspire action.
It is our particular goal to prioritize the voices of BIPOC, women, and non-binary individuals, and to introduce conversations about how we at Rotman can/should be more ambitious in our definition of and quest for impact.
Lunch and coffee will be provided. The conference will be followed by a networking reception, where snacks and drinks will be provided for all attendees.
---
---
Click here to see the full schedule
Schedule 
8:30 – 9:00: Registration
9:00 – 9:10: Introductions
9:10 – 9:45: Keynote by Tabatha Bull, COO, Canadian Council for Aboriginal Business
10:00 – 10:45: Clean Tech Panel – Moderated by Professor Richard Blundell
11:00 – 11:45: Social Innovation Panel – Moderated by Professor Laura Doering
12:00 -1:00: Lunch and Networking
1:00 – 1:45: Sustainable Finance Panel – Moderated by Professor Jan Mahrt-Smith
2:00 – 2:45: Transitioning Canada to a Low-Carbon Economy – Moderated by Professor Sarah Kaplan
2:45 – 3:00: Concluding Remarks
3:00 – 5:00: Networking Reception
---
---
Speaker List
Keynote Address: Tabatha Bull, COO, Canadian Council for Aboriginal Business
Cleantech
Moderator: Richard Blundell – Executive-in-Residence and Associate Professor, Rotman School of Management
Speakers:
Shirley Speakman– Senior Partner, Cycle Toronto
Social Innovation
Moderator: Laura Doering – Assistant Professor of Strategic Management, Rotman School of Management
Speakers:
Fatima Saya – Manager, Community Partnerships Daniels Corporation
Kathryn Scharf – Chief Program Officer, Community Food Centres Canada
Jarret Leaman – Founder, Centre for Indigenous Innovation and Technology; Director of Business Development and Philanthropy, Troon Technologies; Founder, Ayaabe
Sustainable Finance
Moderator: Jan Mahrt-Smith – Associate Professor of Finance, Rotman School of Management
Speakers:
Jonathan Hera – Managing Partner, Marigold Capital
Karolina Kosciolek – Consultant, Rally Assets
Mark Sevestre – President, Founder, and Chair of Reconciliation & Responsible Investment Committee – National Aboriginal Trust Officers Association (NATOA)
Transitioning Canada to a Low-Carbon Economy
Moderator: Sarah Kaplan – Distinguished Professor of Gender and the Economy, Professor of Strategic Management, Director of the Institute for Gender and the Economy, Rotman School of Management
Speakers:
Barbara Zvan – Chief Risk and Strategy Officer, Ontario Teachers' Pension Plan; Government of Canada's Expert Panel on Sustainable Finance
Tabatha Bull – COO, Canadian Council for Aboriginal Business
Steve Easterbrook – Director of the School of the Environment, University of Toronto