New Trade
The "New Trade" module (found under the Trades menu) allows you to submit trade orders to buy and sell securities. In the Ticker field, type in the ticker symbol of the security that you wish to trade. Then choose the order type by clicking to toggle the BUY/SELL button. In the Volume field, specify the number of the securities that you wish to buy or sell. Next, use the drop-down menu to select your order type. There are four available choices: MKT (Market Order), LMT (Limit Order), STOP (Stop Order), and MOC (Market-on-Close). Notice that if you are making a LMT or STOP order, then you will have to specify the price in the Price field.
Once you click on the Submit button, an Order Confirmation box will appear. This box contains all the relevant information regarding the current trade. Please confirm that you have entered all the information correctly before clicking on the Submit button to confirm the trade.
As mentioned above, you can also open the New Trade module by double-clicking a security in the Market Watch.

Note: to short sell securities, simply submit a sell order. If you own shares, it will sell the shares that you own. If you do not own share, it will simply short sell the shares.
Trade Management
The "Trade Management" module is found under the Trades menu. The "Open" tab shows all of your outstanding orders with relevant details for each order. Since these orders are not transacted yet, you have the option to cancel them by clicking on the corresponding "Cancel" button under the Cancel column.
You can also set a One-Cancels-Other (OCO) name for an order. If you tag multiple orders with the same OCO name, then as soon as one of the orders gets executed, the other orders in the batch will be immediately cancelled.
The "Transacted" tab shows all your past transactions (excluding currency conversions) with relevant details.
The "Canceled" tab shows your cancelled orders.
All trades are executed at the real-time price. The trade confirmation will appear in your Trade Management module and Transaction Log module immediately, but the transaction price will be hidden for at least 15 minutes due to exchange data regulations.

Whitelisted Tickers
The Ticker Whitelist module (found under the Trades menu) is a restriction on your account imposed by your class administrator to limit the securities you trade to a specific list. Note that your instructor may not use this feature, in which case you'll be able to trade securities according to the class settings (e.g. asset classes and their denominated currencies).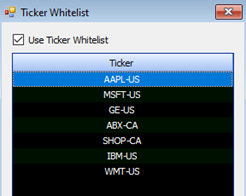 If you attempt to transact a trade outside of this ticker whitelist, you will encounter the following error message: