The Market Watch allows you to monitor quotes for different securities. It provides at least 15–minute delayed quotes for the securities available to be traded in RPM.

To watch a particular security, simply type in the corresponding ticker in the appropriate format (the format varies for different types of investment instruments – see further below) in the Symbol box and click on Submit.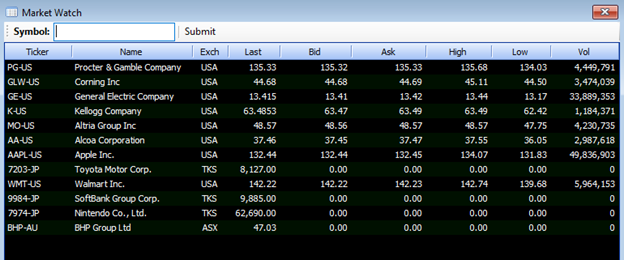 Tip: You can double click on any security from the Market Watch to open a New Trade window to trade that security.
Ticker symbols require "–[country code]" at the end of the ticker. For example, for Microsoft, the ticker will be MSFT–US. Canadian stocks are input using their ticker symbol with the "–CA" extension (e.g. Royal Bank would be RY–CA).
You can find the correct ticker symbol of any security that you are interested in by using the "Ticker Search" module. This function allows you to search the ticker symbols by name, exchange, and many other specifications. For country codes, you may refer to the "Equities Symbology" tab in the Ticker Search window.
For other security types (Bonds, Options, and Futures) please refer to the other tabs in the Ticker Search window.