90

Henry is the president of Cidel Financial Group, a member of the Cidel management committee, and responsible for Cidel's Canadian operations and its investment in Toron Capital Markets Inc. ("Toron"), a leading Canadian investment counseling firm.  Prior to rejoining Cidel in 2008, Henry was chief operating officer of AFL Investments Limited ("AFL") a Bermuda based financial services firm. He is currently executive vice president of AFL, a director of Argus Investment Strategies Ltd, a Bermuda based mutual fund company, and a director of Toron. Henry is a director of the Workman Arts Project of Ontario and a director of the Bhutan Canada Foundation. Henry holds an MA from the University of Cambridge.
Daniel Rosenberg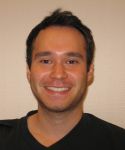 Daniel Rosenberg
Daniel is currently completing his MBA at the Rotman School of Management and is interning part-time as a consultant for the Impact Consulting Group, a management consultancy that is run by five MBAs. Prior to his Rotman education he ran a closely held financial planning business in his hometown, Montreal, where he worked on developing financial solutions for corporate clients using insurance. He recently worked on expanding a Toronto based e-commerce start-up into Quebec. The scope of his work has ranged from financial modeling and institutional strategy to e-commerce and business development.  He is also a trained financial security advisor.  Daniel speaks both French and English and holds a Bachelor of Science degree with a major in chemistry from Concordia University.
Robert Wilson, President, Legacy Private Trust

Robert Wilson, President, Legacy Private Trust
Robert completed his Bachelor of Applied Arts from Ryerson Polytechnic University prior to starting his career in the trust industry. He has worked in the trust industry as a Trust Administrator, Trust Officer and Senior Account Executive. Robert also serves as on the Board of Directors and Advisory Committees of a number of other corporations. He is an accredited member of the Society of Trust and Estate Practitioners, a member of the Toronto Estates Planning Council, a member of the Family Firm Institute as well as an Affiliate Member of the Ontario Bar Association (Trusts & Estates Sections). Currently, Robert is the President of the Lambda Chi Alpha Canadian Educational Foundation and Director of The Westaway Charitable Foundation. He also volunteers as a Membership Committee member of the National Club, Director of the Ontario Track 3 Ski Association and the Brain Sciences Cabinet of the Sunnybrook Foundation.