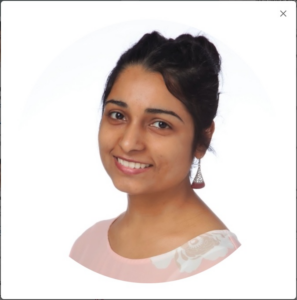 Kalpana Singh
President
Kalpana.singh@Rotman.Utoronto.Ca
Kalpana is a software engineer with a keen interest in the business side of things. Prior to Rotman she was a software developer at Target, Minneapolis and aims to do Technology strategy after her MBA at Rotman. To that effect, she worked this summer at OLG as a Digital & Strategy Intern. In her spare time Kalpana loves doing interior décor and hopes to learn it formally at some point.
What did you love the most about first year?
While the online context was not the most conducive to developing meaningful relationships, it is in fact those few strong friendships that I developed during the time that I most love about the first year. I also got my first ever dog during the time so it's a tie, I guess!
How did you spend your summer?
I was busy enjoying long walks and exploring nature Toronto has to offer. Another significant part of my summer has been the internship experience at OLG and planning club events with the team!
---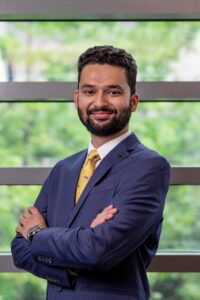 Eshaan Ghate
VP External
Eshaan.ghate@Rotman.Utoronto.Ca

Eshaan decided to pursue a BSc. in Economics from the University of Exeter, United Kingdom before choosing to work with EY in India as an Analyst. While providing risk management consulting services for clients in the Retail, CPG, and Automotive sectors, Eshaan grew increasingly interested in understanding how individual processes across an organization integrated to create a robust value chain. Eshaan created value for his clients by optimizing their risk strategies, reducing supply chain operational costs, and enhancing retail operations. In his free time, Eshaan loves to listen to automotive podcasts, cook, and explore local Canadian craft beers.
What did you love the most about first year?
The most gratifying aspect of my 1st year at Rotman was the massive group of friends I was able to surround myself with. Having people from around the world of different nationalities and backgrounds, allowed me to not only learn about their experiences and cultures, but also share some of my own with them. However, what stood out to me the most was how well my classmates and I adapted to the "new ways of working" created by the pandemic. We ensured that we had each others backs, and also that we got the most out of the situation dealt to us.
How did you spend your summer?
Over the summer of 2021, I worked with the Ontario Ministry of Economic Development as a Policy Advisor managing two Automotive sector programs. I helped provide financial support to local Ontarian small and medium enterprises and made platforms available to them to facilitate the development of new-age mobility solutions within the province. I also led a program geared towards developing provincial policies and creating strategic roadmaps to promote the adoption and commercialization of autonomous and electrical vehicles. This experience gave me an incredible opportunity to explore the public sector and an industry that I am passionate about (Automotive) from "the other side of the curtain". Besides work, I spent a lot of time exploring Toronto on foot, and experimenting in my kitchen to beat the pandemic blues. 
---
Jahanvi Maheshwari
VP Internal

Jahanvi.maheshwari@Rotman.Utoronto.Ca

Jahanvi is an Electronics and Instrumentation Engineer with 3 years of experience as a Business Analyst/Product Owner in Deloitte's Fintech domain. Part of her job was to liaison between the clients and technology team to deliver business technology solutions. She also freelanced as a Marketing Consultant for a digital marketing startup and went on to explore the Ad Tech industry as an Account Manager before starting her MBA journey. This summer, she interned at Amazon as a Pathways Ops Manager. Growing up, she has lived across ten different cities, towns, and villages in India and loves exploring food, music, and different dance forms.
What did you love the most about first year?
First-year for me was all about exploring my capabilities and learning something new every day. Through our shared experiences, I managed to make some fantastic friends who I know I can lean on, come what may.
How did you spend your summer?
This summer was all about stepping outside my comfort zone and trying my hands at something new and interesting. I interned with Amazon as a Pathways Operations Manager, working in an industry that I have never been exposed to before. It was an incredibly rewarding experience. I also spent a lot of time with my Rotman family, catching up over food, movies, walks, and the usual shenanigans.
---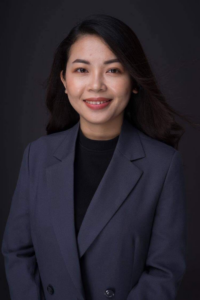 Trang Le
VP Careers

Trangg.le@Rotman.Utoronto.Ca

Trang majored in International business and has acquired the Lean Six Sigma Green Belt. Prior to Rotman, she has 8 year of experience in Supply Chain Management at Nestle Vietnam, Thailand, and China. Her robust rotation across functions such as demand & supply planning, procurement, and improvement project management solidifies her career development in this domain. Trang loves to learn new things and wants to apply her transferable skills and knowledge to different industries. Her MBA internship at Hudson Bay Company gives her a chance to be exposed to the dynamics of the Retail industry in Canada. Apart from work and study, Trang loves cooking, hiking, and having a great cup of coffee every day.
What did you love the most about first year?
Having new friends, learning about new cultures, and listening to stories from different social and professional backgrounds were the most enjoyable experiences during Year #1.
How did you spend your summer? 
I interned at Hudson's Bay Company as a Supply chain intern, apart from work I enjoyed the summer as much as I could and met many of my MBA friends after one year on zoom calls!
---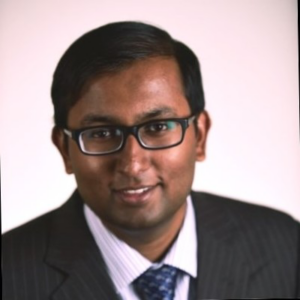 Tushar Sinha
VP Finance

Tushar.sinha@Rotman.Utoronto.Ca

Tushar has a Bachelor's degree in Industrial engineering from Purdue University and a Master's degree in Supply Chain Engineering from Georgia Institute of Technology and is currently in Rotman's full-time MBA program. He began his career in aviation working for Delta Airlines where he managed a multi-million-dollar repair and maintenance program for the company's reserve aircraft engines, landing gears and spare parts trading with European alliance partner airlines. He worked for Thyssenkrupp Elevators in their North American supply chain management team helping manage the procurement of components on New Product Introduction initiatives, supplier quality improvement and validation and new supplier on-boarding.
What did you love the most about first year?
Participating in different club events and getting to know fellow classmates and alumni.
How did you spend your summer? 
I interned at a Logistics consulting company on a project for the Canadian military, while taking some summer courses.
---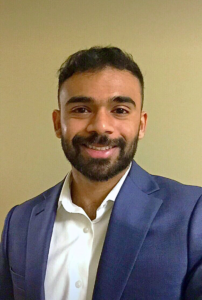 Sri Ashokkumar
VP Communications

Srivikram.ashokkumar@Rotman.Utoronto.Ca

Sri has a background in Mechanical Engineering and has worked in different sectors within Canadian Manufacturing, including Automotive and Nuclear, for over three years before opting to pursue his MBA. During his time in the industry, Sri enjoyed leading projects aimed at process optimization and operational risk mitigation while forming strong bonds with colleagues & clients alike. Having worked in Operations, Sri is passionate about communicating the important role that it plays for any business, and promoting the promising career paths that it has to offer.  In his free time, Sri enjoys spending time in the gym, playing squash with friends, and reading about history.
What did you love the most about first year?
It's tough to narrow it down to one thing, but I really enjoyed the classes. Though I have a few favourites, all the courses in first year allowed me to reflect on my experiences & helped me identify what I'd really love to do next. The way in which classes were structured was also great, because it facilitated learning from my friends & classmates, and that made the journey a whole lot more enjoyable!
How did you spend your summer? 
This summer I took 4 electives and started my internship at Dassault Systemès in Strategic Planning & Business Development. Apart from work & school – most of my time was spent catching up with friends. Oh, I also took on a new hobby – nature walks!
---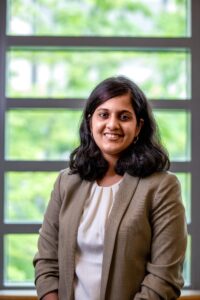 Swetha Sampath
VP Part-Time

S.sampath@Rotman.Utoronto.Ca

Swetha Sampath is an Electronics Engineer with a Bachelor's in electrical and Electronics Engineering. She has 8 years of progressive experience in the Design & Manufacturing Industry, predominantly in the Aerospace industry. She started her career at Collins Aerospace and held a variety of roles, spanning Operations, Planning, Quality & Design for 7 years. She then moved to Zebra Technologies as a Component Engineer, bridging the Design and Supply chain Teams in New Product Initiatives. She pursues photography & writing in her free time.
What did you love the most about first year?
Year 1 has been a roller coaster ride with online classes and going back to the study routine after entering the workspace. I loved the very thought of getting back to school and meeting new friends from different cultures and work background. Getting into Rotman in itself was a dream come true.
How did you spend your summer? 
Spending time with my newborn and taking her out has been my favourite thing to do this summer.
---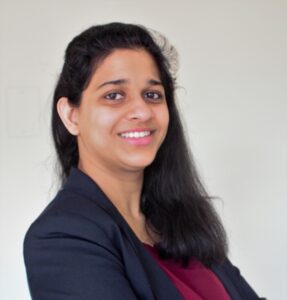 Swetha Gollapudi
Director
Swetha.gollapudi@Rotman.Utoronto.Ca
Swetha Gollapudi is an Electronics and Communications Engineering graduate. She started her career as a Systems Engineer for Infosys and then transitioned to the Financial Services industry. She worked in the retail banking divisions of SBI and BMO, and as an Anti-Money Laundering Investigator for two Canadian banking clients. She always tries to maximize her free time so she can spend it all with her 11-month-old daughter.
What did you love the most about first year?
The one thing I loved the most about year 1 was learning from my brilliant classmates. I also thoroughly enjoyed the Operations Management and Managerial Negotiations courses during the first year.
How did you spend your summer?
This summer, I worked as a Customer Experience and Product Management Intern at Equitable Bank.
---